Welcome to the website of the Saffron Walden Crank Up.
People from the local area and beyond with an interest in steam and vintage vehicles, may well remember the "Crank Ups" organised by the late Paul Engelmann at Shire Hill in Saffron Walden for many years from the 1970s until the early 2000s.
Building on the success of events held at Audley End over the previous few years, the East Anglian Traction Engine Society, with Paul's permission, revived the Crank Up in 2015 to the delight of the exhibitors and visiting public alike.
NEXT YEAR'S RALLY will be held on 25th & 26th April 2020
at Carver Barracks, near Saffron Walden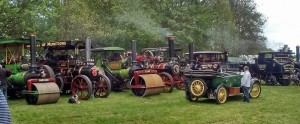 The Crank-Up was always well regarded for its friendly, relaxed atmosphere and the large variety in exhibits, and it is hoped that this event continues this tradition.