With the Crank Up only a week away now, preparations are well under way!  Today, a number of committee members were at work patching and improving roadways around the site.  Then, in the early afternoon the first two steam exhibits arrived on site, being the Pumfrey family's Ruston "Success", and Dan Chidgey's Aveling roller "George", both of which had stopped for lunch at the Fighting Cocks, a nearby pub which is very supportive of our event.
http://www.thefightingcocks.biz/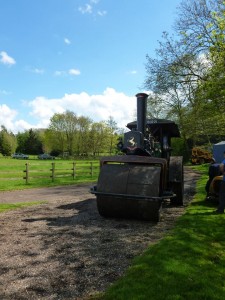 George was soon put to work rolling the roadways around the site.  Then two more rollers came along, Aveling "William", owned by Nick Allen, and the Reid family with their newly acquired Clayton roller.
Photos by M. Pumfrey, D. Chidgey and J. Jennings.