Of course, at the Crank Up we are very proud of our line up of steam engines, but that doesn't mean that other sections are neglected.  Entries are coming in well.
Of particular note, and with a local connection, is this fine Ruston & Hornsby stationary engine owned by Mr. Thomas from Saffron Walden.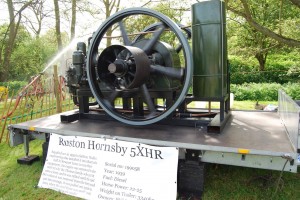 "The engine was supplied new in 1939 to Saffron Walden Engineering who installed it into Barnards mill in Newport, near the station.
It was removed from the mill in the mid 70's and put onto a lorry for Rallies, it then spent many years in storage until 2011 when it was mounted on a trailer to rally again."
The photo was taken at last year's Crank Up